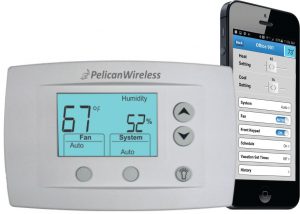 The HVAC system in your home is responsible for controlling the airflow for a balanced, comfortable climate throughout. Temperature and humidity are two parameters that require continuous monitoring and adjustment to achieve this balanced climate and help you heat up or cool down a room with a thermostat with humidity control. With the help of temperature and humidity sensors, real-time readings stay updated to support an automatic readjustment of the ambient temperature and moisture levels. The electronic gadget that acts as a user interface for you to set a program is known as a thermostat – and it primarily manages temperature levels. Most smart thermostats are designed with a built-in humidistat as well; a humidistat keeps an eye on the moisture content in the air and maintains your desired humidity level.
Such a thermostat with humidity control forms the new generation of home automation solutions, as it has a dual function on the same interface. These Wi-Fi-enabled thermostats bring the added comfort of a programmable schedule to automate your temperature/humidity preferences. The intuitive design offers humidification and dehumidification options among other configurations at the click of a few buttons – and you can always view and manage your smart atmosphere on your tablet. Relative humidity (RH) is the indoor moisture compared to the outdoor levels, and by combining this feature on a thermostat, your HVAC performance becomes exponentially better with time.
Benefits of a Thermostat with Humidity Control
Better Prevention of Mold and Pests
High humidity in the air means a greater moisture content that allows mold and mildew to build and thrive. A more saturated air accelerates the growth of mold and becomes a breeding ground for various pests in your home. With a 2-in-1 thermostat that controls humidity as well, you can simply set the desired temperature and humidity target values, and let the HVAC do its job. Humidity control makes the indoor air more breathable and the environment more inhabitable for people who have allergies and breathing problems.
Durability and Longevity of Your Possessions
Mold and mildew from high humidity also eat into your furniture upholstery, books, stocked supplies, and paintwork. On the other hand, excessively dry air causes flooring and plaster to deteriorate and crumble over time – not to mention the static electricity that keeps crackling in the air. Therefore, minimizing humidity levels at optimum comforts is the fastest way to let your home breathe a new lease of life – with all the structures and décor fabrics surviving the test of time.
Large-Scale Management
Humidifier and dehumidifier appliances are often strategically installed to create isolated climates for each room, and they offer quite workable solutions to combat humidity differences. A thermostat with its integrated humidity control fits into this system like a missing puzzle piece. Your humidifier/dehumidifier devices already generate a continuous stream of humid/less humid air. Combined with a 2-in-1 thermostat, the whole system acts as a smart management control that flattens the humidity curve to optimum levels around your home.
Versatile Features
Smart thermostat and humidistat combo devices support options like automatic daylight savings adjustments and reheat convenience. They are developed to meet compatibility goals for seamless integration to your existing HVAC and smart home network. By memorizing your preferences on customizable displays, the thermostats provide automated adjustments that can also be modified on your smartphone. There is often a filter change alert to remind you of the scheduled cleaning cycles.
Best Thermostats with Humidity Controls
Emerson 7-Day Touchscreen Thermostat with Humidity Control (1F95-1291)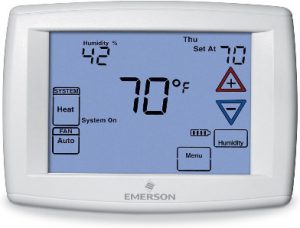 Emerson thermostat is equipped with humidity control and has a large touchscreen display. It allows you to set humidification and dehumidification preferences – and your schedule can extend to all 7 days of the week with a different program for each day. The thermostat is compatible with various HVAC and heat pump systems and features a keypad lockout option. The touch-sensitive screen displays just the keys you need to press to learn about the setup, confirm a program, and adjust the controls – which makes the thermostat a user-friendly interface through minimal entries. You can set accurate temperature controls as the thermostat helps regulate your chosen temperature to 1-degree precision. The device has an auto changeover feature, and its programmable schedules contribute to low energy costs that are further decreased due to the thermostat's Cool Saving characteristic. This feature automatically saves energy during peak hours.
The 2-in-1 thermostat can be wired into your home's existing framework, and its compatibility extends to single-stage/multi-stage gas, oil, and electric systems as well as millivolt and 3-wire zone systems. This shows that the thermostat can work with various furnaces and fuel systems too. However, the thermostat is not designed to work with systems like line voltage baseboards and proprietary/communicating networks. A popular buy among residential users, the thermostat makes a resourceful unit to combat indoor humidity and maintain it at comfortable levels.
Bosch BCC100 Connected Control Smart Phone Wi-Fi Thermostat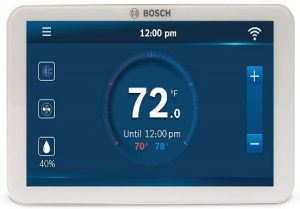 Bosch smart thermostat connects to your home Wi-Fi to be controlled by your smartphone. It works with voice assistants like Alexa and Google Home, enabling voice commands to set temperature and humidity controls. You can install it to operate either your humidifier or dehumidifier at one time. The smart gadget integrates easily into your HVAC system and network for remotely managing your home's atmosphere from wherever you are. It offers a simple user interface to program your settings for on-the-go contexts as well as vacation modes – and you can also view your local weather forecast. This helps with energy-saving benefits while you are away from home, as the thermostat-humidistat unit follows the assigned schedule. Using your smartphone, you can connect to multiple thermostats and supervise up to 4 schedules per unit, making the Wi-Fi-enabled solution programmable to your needs.
Safety alerts from the BCC100 app as well as the auto-on control features keep you updated and notified, so you always remain well-informed about each unit and its status. Once you remove your old thermostat, Bosch smart thermostat can take its place in simple DIY installation. It is multifunctional in terms of heat pump systems, a 1-wire humidifier or dehumidifier, and various HVAC equipment. Moreover, the dual-fuel capability allows the thermostat to work with both gas and electric-powered HVAC systems. The design has been upscaled with Humidifier and Dehumidifier Algorithm updates for external humidifier accessories as well as gas reheating/cooling for dehumidification. This updated plan helps manage your preset humidity control when you are using heat pump resources, and it is the underlying feature that doubles this thermostat as a humidistat. A C-wire will be needed to power the device, and most HVAC setups include one for easy integration. The interface also offers quick, hassle-free navigation to configure your default choices and tune in to any new environment.
Aprilaire 8620W WiFi Thermostat with IAQ Control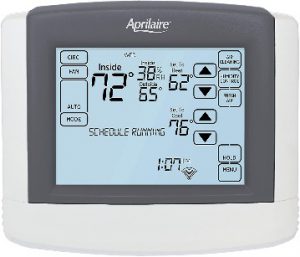 Aprilaire smart thermostat provides event-based humidity and ventilation control. Its large LCD interface creates simple usability and navigation to help you through your default preferences and new adjustments. With voice controls like "Alexa, increase the temperature", you can use your voice assistant to automate temperature and humidity changes – why walk to your thermostat when your voice travels faster! You can also install the Aprilaire app to view your smart atmosphere anytime on the dashboard. The system facilitates management for temperature, humidity, as well as air purification for a truly pleasant and free-flowing atmosphere around your home. It is a one-stop hub to improve your indoor air quality through both voice commands and app settings.
The automatic humidifier and dehumidifier aspects ensure that your home's relative humidity percentage stays at a breathable minimum that is neither suffocating nor excessively dry. By setting schedules and confirming auto turnoffs, your worries for energy consumption can take the back seat when a real-time thermostat works on the frontline. The thermostat-humidistat combo unit detects changes in the ambient readings and responds accordingly to your HVAC system. This also means that scheduled programs are self-regulated to meet your target parameters so that more energy is preserved rather than lost to unnecessary usage. One major connectivity flaw is probably the app's inability to display whether or not your dehumidifier appliance is running – and discrepancies in preset temperatures have been another huge letdown for homeowners.
Honeywell Touchscreen Thermostat Wifi Vision Pro 8000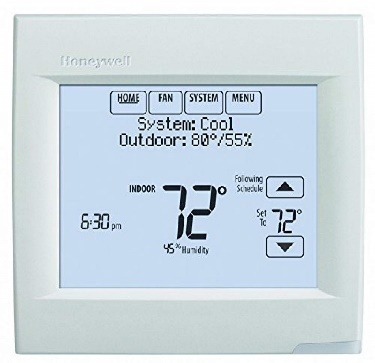 Honeywell touchscreen thermostat needs a C-wire to connect with various existing frameworks for conventional systems and heat pumps. The Alexa-enabled unit controls indoor humidification and dehumidification processes along with managing ventilation airflows. This takes place in the thermostat-humidistat hub – minus any input from outdoor air sensors. Famous for its 7-day programmable convenience, the thermostat allows you to set your desired temperature and humidity values for each day of the week. Such an on-the-go facility makes it easy to manage your rooms' climates, create schedules, and enjoy the benefits of energy-saving results.
The programmable thermostat is easy to install and configure. It is a popular choice among residents of humid regions – and also those who have humidifier/dehumidifier appliances at home. The dehumidify setting can pair up with your air conditioning unit to vacuum out more moisture from your indoor air, which makes a great solution if you do not have a standalone appliance to do the job. With a few clicks on the app or simple voice instructions for Alexa, your smart schedule control creates a balance between ideal temperature and humidity based on the values that you set.
Venstar ColorTouch T8900 Thermostat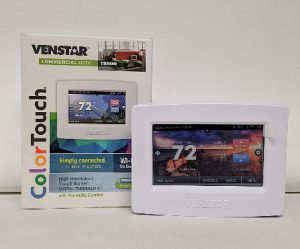 Venstar Wi-Fi thermostat with humidity control connects with a maximum of 4 heating and 2 cooling stages. Its added versatility with gas, electric, and heat pump systems increases your scope for temperature and humidity management for different applications around your home. This dual-fuel compatibility helps with outfitting your home automation environment with centralized controls that you can manage from your smartphone. The thermostat adds programmable simplicity to your preferences for each room, including vacation schedules to save energy and check off one element from your list of worries.
The ColorTouch model supports customizable wallpapers for the background. You can use family selfies as background images and adjust them using the ColorTouch Assistant – turning your smart thermostat into a smart photo frame. There are also creative themes to choose from to personalize the display and make it reflect the holiday season. All the Venstar thermostats around your home can be linked up and accessed on your computer, and the commercial version is purpose-built to tackle humidity issues.
How Does Thermostat with Humidity Control Work?
A thermostat-and-humidistat combo unit is a very flexible solution for maintaining consistent levels everywhere. The combined unit not only enhances the performance of your HVAC distribution and standalone humidifiers/dehumidifiers, but it also connects with your air conditioning system fan to dehumidify the air simultaneously. The smart makeshift solution works perfectly well, proving just how efficient these 2-in-1 gadgets can be. Humidity management arises from the need to cut down the high moisture content in the air, as this becomes the root cause of allergies, breathing issues, accumulating mold, crumbling wallpapers and paint, and damaged upholstery.
Both extremes of too high and too low humidity levels are proven to be detrimental to health as well as property values. Moldy frameworks and warped floors are not just an eyesore; they can require extensive remodeling and even necessitate demolition projects. Problems with indoor humidity are widespread in areas that already experience too humid climates. Thermostats act as a smart window to your essential updates, and most Wi-Fi models have been developed to combine both temperature and humidity controls in one unit.
There are 3 general ways these thermostats operate – through the intuitive touchscreen display, voice controls, and smartphone apps. Automated schedules enable a set-and-forget solution for you to just choose your desired settings and sit back and relax while the thermostat takes the lead. There is no more room to worry about the HVAC units that might still be working when you are away on vacation – the auto features and vacation modes are designed to make that decision for you. And finally, with your electricity curve taking a dive, there is no bigger incentive than the promise of energy savings with a thermostat that can "learn" your preferences and "remember" to turn off the system without much human intervention.