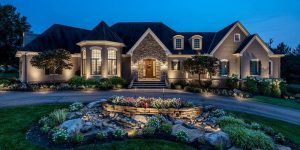 Landscape lighting is not a splurge—it allows you to enjoy the beauty of your garden even when it is dark out. It enhances the water features, best plants, and other aspects and washes away intriguing shadows.
Today homeowners are becoming greatly accustomed to controlling their house devices with wifi. And landscape lighting isn't an exception to this rising trend of wifi-enabled home automation devices. There're all kinds of reasons why you would want to smarten up your landscape lighting and have better control over them – the convenience of remote control, automation, and other features.
A wifi transformer can orchestrate control over all the landscape lighting adorning your yard outside. This transformer is an excellent way to manage all your landscape lighting from a perfect location, turning your home landscape lighting into a smart, wireless system.
Benefits of Installing a Wifi Landscape Lighting Controller
In today's world, wifi landscape lighting controllers have eliminated the requirement of light sensors and physical timers, which were common in a standard landscape lighting system in earlier times. They have made setup and modifications intuitive and simple, and have given the homeowners flexibility in manually controlling the lights out of their set schedule.
Allows scheduling of lights
A wifi landscape lighting controller that uses a Cloud-based system enables you to set a schedule and control the lights when you are not at home. As long as you have internet access, you can manage the lights with such a system.
Two kinds of wifi transformers are available in the market if you want to use a Cloud-based system. One executes its functions based on the signals from a Cloud server that houses the commands. The other one, which is the more practical one, houses its schedule in two places i.e. on the transformer and in the Cloud. The advantage of this kind is that the lighting schedule is executed even in the absence of internet connectivity (when the landscape lighting transformer is not connected to wifi).
Offers battery backup
A downfall of the earlier systems was that they weren't battery-backed, and an event of a power outage caused the time to be incorrect. However, today's wifi landscape lighting controllers have battery backup that provides uninterrupted lighting in loss of power.
Offers multiple zones
The digital era of wifi landscape lighting controllers has brought greater functionality. Most of them offer multiple zones, which when combined with other area zones and schedules, gives you the ultimate flexibility.             
Many of the customers use these zones for controlling their living area lights out of any set schedule. Though this functionality can be obtainable on Bluetooth landscape lighting transformers, it isn't much practical, because the proximity to a wifi transformer is usually not convenient for use, when entertaining.
Many customers use this benefit for controlling items such as deck lights or bistro lights with their mobile phones on demand. For customers, nothing beats the comfort of controlling lights with their mobiles.
Choosing and Installing a Wifi Landscape Lighting Controller
The size of a wifi transformer is determined by power (watts). You can size the wifi landscape lighting transformer by adding up all the light power (watts) connected to it.
When it comes to connecting a lighting transformer to the internet, it is pretty simple. Generally, a direct connection is a preferred method for connecting a wifi landscape lighting controller to a wifi network.  The wifi transformer must be installed in a place that has a strong wifi signal to ensure a good connection.
Moreover, before you run a wire, we recommend the lighting transformer to be installed first and connected to wifi before the further installation process is carried out. This will assure proper connectivity.
Best Wifi Landscape Lighting Controllers
While there are several network-enabled devices available, not all of them are equally qualified enough. Some of them might be against your budget, and others might not live up to your expectations. So what to do?
If you are looking for a wifi landscape lighting controller, the below text is for you. We have listed some of the best wifi landscape lighting controllers that will help you make a suitable choice for adding easy and elegant lighting in your yard.
GE Z-Wave Plus 40 Amp Indoor/Outdoor Metal Box Smart Switch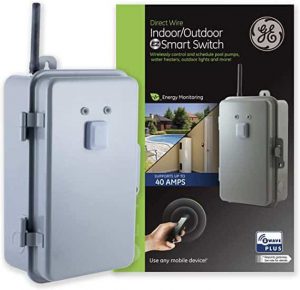 The GE Z-Wave Plus 40 Amp Indoor/Outdoor Metal Box Smart Switch can effectively transform your house into a smart home. This heavy-duty transformer is both outdoor and indoor rated at 120-277V and provides powerful energy monitoring capabilities. Inside the metal box are instant connect terminals for convenient installation. While it requires compatibility with a Z-wave hub for a proper function, the GE Z-Wave Plus Smart Switch is also compatible with Amazon Alexa, Wink, and Samsung SmartThings. All these features make this transformer one of the top recommendations for the best wifi landscape lighting controller. The results are pretty bright. Besides landscape lighting, it enables wireless control for other hard-wired, large load applications as well such as spas, heaters, pool pumps, and water heaters.  The smart switch comes in a tamper-resistant, lockable case to ensure secure wiring and settings. Plus, the weather-resistant, rugged design assures to keep dirt and debris at bay and a seamless function in all weather conditions.
Paradise GL33600 12V 600W Transformer for Outdoor Landscape Lighting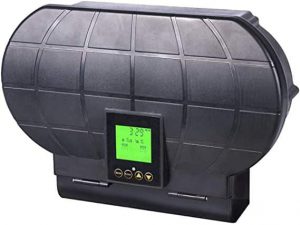 Don't get zapped when it's about making your outdoor feel like home. The Paradise GL33600 12V 600W Transformer has got you covered with its easy installation, low-profile design, and automatic lighting timers. With this handy device, you can easily add landscape lighting and path lights to your patio, garden, or around your swimming pool at a nominal price. The converter is rated for both outdoor and indoor use and operates for low voltage systems from 12-15 volts. To make sure you have greater control over the gadget, the Paradise GL33600 is well-equipped with 5 modes: on, off, auto, sunwise (local sunrise and sunset), and auto (dawn-to-dusk). The auto mode of this wifi landscape lighting controller is the striking feature as it effectively sets the mood for you. With this, you don't have to fiddle any more with the switches when it is too dark outside.