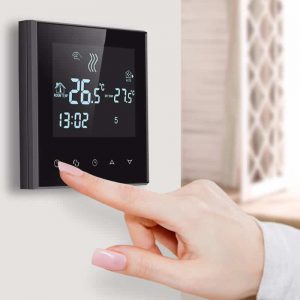 No one likes cold floors during winters, and many people realize the importance of heat in their homes during such weather. Having a room set at the right temperature enables you to feel the difference between being nicely comfortable, freezing, or dozing off. Besides, it can have a significant effect on your brain, so having efficient heat control in your home is critical.
Underfloor heating or radiant heating has become a huge deal in the last few years. It is an energy-efficient and effective way of heating your home, saving you some bucks and the environment. With IoT (Internet of Things) and smart homes infiltering American households, it should not come as a surprise to you that it has reached the thermostat market as well. Through their remote accessibility via wifi and smartphone apps, the smart thermostats enable you to regulate their cooling and heating systems from anywhere at any time.
With increased demand, the hydronic industry isn't an exception to smart technology. Today, wifi thermostat for hydronic radiant floor heating is the new wave for controlling your heated floors. The section is so impressive that we have decided to put a list of the best together for you. Keep reading.          
Hydronic Radiant Floor Heating Thermostats
The thermostat you select to control the hydronic radiant heat ideally has a floor sensor. The sensor constantly monitors the temperature of the floor, so that it doesn't become too cold or too hot. Additionally, a hydronic radiant floor heating thermostat also controls the water heater as it is this warm water that delivers the heat to the floors. The best wifi thermostats operate with floor sensors that are capable of adjusting the temperature more precisely without overshooting the optimal temperature. This is both more efficient and safer. Let us see some of the best wifi thermostats for hydronic radiant floor heating available.
Ecobee SmartThermostat with Voice Control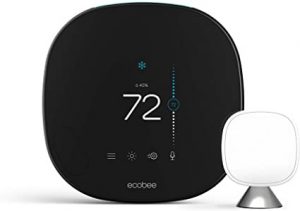 While we agree that Ecobee SmartThermostat is a pricey choice for hydronic radiant heat systems, we can't deny how many outstanding smart features this unit packs. It's much more programmable and accurate than many smart thermostats available today. The device supports 2-stage heaters like a heat pump or boiler, so it helps in heating your home efficiently without overcompensating. Besides, it works essentially well even if you have more than one heating system in your house. All those who love operating different apps through their fingertips or voice will surely like how much the Ecobee SmartThermostat has to offer. This wifi thermostat uses Google Assistant, Siri, and Alexa voice integrations to control it. It has remote sensors that automatically detect when you're away or at home and adjust the floor temperatures according to your needs. Additionally, the device works well on both 2.4 GHz and 5 GHZ wifi networks, making it a good option for smart homes with dual-band routers.
Aube by Honeywell TH140-28-01-B/U Hydronic Programmable Thermostat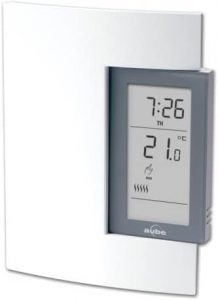 Honeywell is a known brand for producing high-quality products, and their Aube TH140-28-01 B/U proves that a device doesn't have to be expensive to be efficient. It is a good choice if you want something straightforward and easy to use to control your hydronic radiant floor heating. It is quite easy to install,  and the fact that it is suitable to use for central and hydronic floor heating, line voltage heating systems, and millivolt gas fireplace heaters, renders it a versatile option for floor sensor units. The device features an advanced control system that guarantees total comfort by keeping temperature swings to a minimum. The seizures are kept well in control through the inclusion of pump protection that activates for one minute every twenty-four hours. Furthermore, it can be programmed for up to 7 days in advance. This means you can set your floor temperature based on when you will be home and when not. All in all, the Aube TH140-28-01 B/U is a good option for those on a budget. It may not include some of the many fancy attributes, but it definitely performs the task right.
Honeywell Home RCHT9610WFSW2003T9 WiFi Thermostat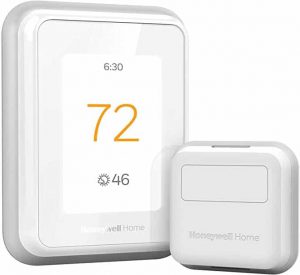 Do you find it difficult to constantly set your radiant heating thermostat between when you are away and home? With Honeywell Home RCHT9610WFSW2003T9 WiFi Thermostat, you won't need to worry about anything – all because of its impressive floor heat sensor. Its floor heat sensor detects when you are in the room, and it is then only that it begins heating the floors. When you are not in the room, this wifi thermostat automatically turns down the heating. You can add geofencing as well. This feature will allow the hydronic thermostat to turn on when your smartphone enters a particular area. This way the heating will not be turned on unnecessarily if you reach your house at a time when the thermostat hasn't been programmed. The device is easy to install and is compatible with Cortana, Google voice commands, and HVAC systems. Besides, its quality of keeping track of your hydronic floor heating trends is pretty appreciative and features the ability to be programmed for multiple rooms as well. Overall, Honeywell Home RCHT9610WFSW2003T9 WiFi Thermostat is an excellent option for those who like all things auto-adjusting and 'smart'.
Google Nest Learning Thermostat – 3rd Generation Nest Thermostat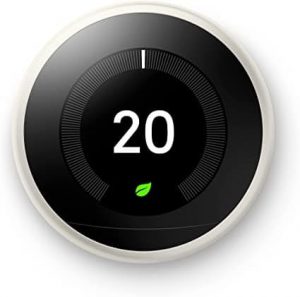 If you're looking for an excellent wifi thermostat for hydronic radiant floor heating, Google Nest Learning Thermostat – 3rd Generation Nest Thermostat is one ideal option. It is not only beautifully designed with a bright, big display and attractive metal finish but also packs a punch of features that will help you maintain a proper temperature in your home. It boasts the unique feature of auto-adjusting, thanks to its outstanding floor sensor, which makes it exactly know when you are away and home. Much like the Honeywell Home wifi thermostat, this device knows not to heat an empty house. It will heat your floors in your presence and turn off automatically in your absence. Moreover, the Nest pairs well with the phone app that enables you to control its settings remotely. It shows you the amount of energy being used in your home and why. In a nutshell, if you are impressed with high technology gadgets, the Google Nest Learning Thermostat – 3rd Generation Nest Thermostat is the right choice for your heat pump.