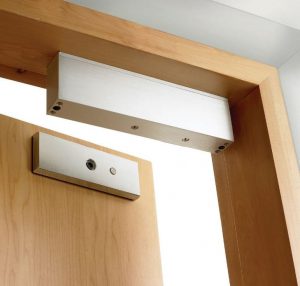 Image source: Amazon
A wireless electromagnetic lock is used in fail-safe security applications to provide reliable access control. With the required code compliance, these devices can be installed in various residential and commercial buildings. They are often used with wireless remote controls, card readers, and even built-in keypads depending on the type of electromagnetic lock you choose. The door gets attached to its frame via an electromagnetic force, which keeps it securely locked. This eliminates any chance of a forcible entry because the locks are designed to withstand heavy impact. By simply buzzing in your visitors, you can ensure the safety of your residence or workplace. It is a convenient and reliable way to manage your access points without physically unlocking the door every now and then.
Electromagnetic locks allow most commercial users to effectively screen their door traffic by combining these locks with their security/surveillance systems. Since the mode of access is restricted to only validated methods, you can rely on this feature to prevent unauthorized access. Electromagnetic locks are far more efficient and promising than standard electric lock systems – thanks to the stronger level of security they provide. This article focuses on some key features of a wireless electromagnetic lock along with the best buying options in the online world.
What makes the lock so useful?
Two-way security
Electromagnetic locks do not just secure the entry point; they also allow people who are inside to exit the room using their assigned wireless keys – or even the remote control's exit button. So, the teams responsible to guard the doors can ensure security in both ways. The locks typically feature high force values like 600 lbs., which gives you a measure of their strength and reliability. They make a great choice when you do not want to physically walk to the door every time a customer/visitor turns up – or an employee leaves the office.
Application range
You can install a wireless electromagnetic lock on various door types including wood, aluminum, and glass. It is the top choice for indoor applications in both residential and commercial buildings. You can find such locks in retail stores, offices, hospitality areas, emergency exits, gas stations, schools, universities, etc. They provide a simple and affordable way to secure multiple access points throughout the building. A wireless receiver communicates with your control accessories, which could be remote controllers, RFID key fobs, or smart cards. You can even use compatible keypads and proximity readers if your lock supports them. Most locks can be programmed to support multiple remotes (like 50 or more) so that authorized users and security guards can keep them.
Locking mechanism
An electromagnetic door lock relies on the power of electromagnetism to keep the door firmly locked to its frame. The passing electric current creates a high enough magnetic force between the electromagnet and metal plate, and this locks them securely until a valid control breaks the connection. The wireless range of a remote control depends on its brand – for example, some locks can be opened from a 150-feet distance using the controller button. Since electromagnetism relies on a power supply, these locks are designed to be fail-safe in the event of a power outage. This means that the doors can be used as fire emergency exits, as they will unlock automatically to let the people who are inside the building vacate it safely.
Wireless electromagnetic locks
Electric Magnetic Lock 600lbs. and Wireless Remote System : Standard Buzz In Lock Kit : By TOLEDO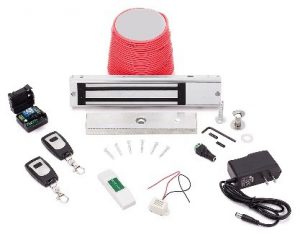 Toledo electromagnetic lock offers a wireless buzz-in system for various workplace security applications – like convenience stores and gas stations. It is compatible with standard commercial swing doors. The wireless electromagnetic lock is much more secure than traditional electric locking systems. You do not require any special tools to install it, as everything you need is included in the package. The complete kit comes with a 60-day hardware assurance, written illustrations, as well as online customer support.
Top features:
This electromagnetic lock has 600 lbs. of magnetic force holding your door and frame together.
The system comes with instant exit, entry delay, and a program button to add more remote controllers.
If needed, you can use any ZL mounting bracket kit to help you install the lock in limited spaces.
The 12 VDC lock kit includes a wireless receiver, wireless remote controls, an exit button, an electronic buzzer, and the required wiring. This inclusive kit allows you to control who enters the room. Also, your employees can leave easily using the remote controller or the convenient exit button.
You can install the lock on wood, aluminum, and glass doors. The UL-listed keyless entry system makes a durable door traffic control in restricted areas.
The lock casing has an aluminum finish to prevent corrosion.
This electromagnetic lock system is compatible with card readers, so you can use existing access cards for authorized entries.
The responsive online support is a definite bonus.
Potential flaws:
Since professional installation is highly recommended, the included instructions cannot help you much with DIY methods.
The mounting bracket kit is not included.
The buzz alert can be improved so that visitors can know that they are being buzzed in.
Visionis FPC-5019 One Door Access Control Inswinging Door 1200lbs Electromagnetic Lock Kit with Wireless Receiver and Remote Magnetic Lock System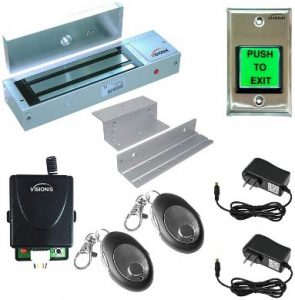 Visionis electromagnetic lock is available as a wireless remote buzzing kit for all commercial applications. You can install the lock in gyms, hospitality buildings, schools, jewelry shops, computer rooms, retail stores, etc. It features an improved LED sensor light, and you can use the contact sensor wire for door sensor connections. The kit makes a valuable addition for multiple access control and comes with a 3-year warranty. You do need to check for local fire code compliance before purchasing this kit.
Top features:
The wireless electromagnetic lock uses a strong holding force of 1200 lbs. for inswing door types.
It is compatible with metal, wood, and glass doors.
The package includes an indoor electromagnetic lock, an inswing bracket, a 315 MHz VIS-8004 one-channel receiver, VIS-8005 wireless transmitter remote controllers, and a VIS-7000 indoor exit button with LED lights. (The exit button lacks a delay, requiring you to click the button and open the door simultaneously.) You can use the included manuals, wiring diagrams, and the lock's technical support to guide your installation.
The 315 MHz receiver supports 1,048,576 codes and can connect up to 20 remote controllers.
This buzz-in maglock kit allows you to wirelessly unlock the door from a range of 150 feet.
There are two ways you can use the wireless receiver. By default, this electromagnetic lock will remain locked as long as there is a power supply until you use the remote control to unlock it. The receiver also has an ON/OFF option that – once activated – lets you customize how long the door remains open. This helps you use the remote button to keep the door unlocked with one click, and the second click will lock it again.
The simple LED on this 12/24 VDC lock indicates the current status – red for locked and green for unlocked. The overall system provides an IP-40 degree of protection.
The casing has a rust-free surface treatment for durable usage.
Potential flaws:
A timer is not included.
The lock does not support a free app feature that other locks from the brand deliver.
There were installation issues among the users, mostly pointing out the insufficient instructions. (On the upside, this necessitates professional help for reliable installation – better safe than sorry!)
LIBO Stand-Alone Door Access Control System Kit Set with 180kg/350lbs Electric Magnetic Lock, DC12V/3A Power Supply, Door Exit Release Button, 10pcs RFID EM ID Keyfobs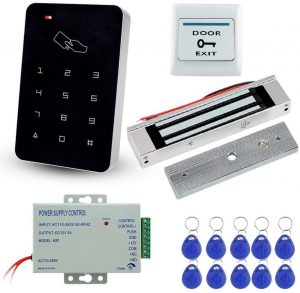 LIBO wireless electromagnetic lock provides versatility in the way you control your security lock. It comes with different control accessories and reinforces your access management system. The standalone lock does not need to be programmed to a computer; it can be programmed directly from the included keypad. You can use this lock in homes, apartments, offices, hotels, factories, etc., so it is quite compatible with various residential, commercial, and industrial uses.
Top features:
The package includes one access control keypad, one power supply, one electromagnetic lock, one exit button, and ten read-only RFID key fobs working on 125 kHz.
The 12VDC lock has a holding force of 350 lbs. It supports the fail-safe mechanism by staying locked with a running power and becoming unlocked when there is no power.
There is a built-in voltage spike suppressor, and the setup is waterproof. You can use this lock on wooden, glass, metal, and fireproof doors.
The keypad allows up to 1000 users for authorized access. It features a proximity reader frequency of 125 kHz. You can use EM-compatible cards on the built-in reader. The keypad itself allows you to use its digital keys or your cards for valid entries. There is also a doorbell button, so all in all, the keypad makes a resourceful control accessory for your electromagnetic lock.
Since there are 10 RFID key fobs, you can assign them to 10 users for authorized entry. This gives you more freedom to distribute authorized access between RFID key fobs and the keypad.
Potential flaws:
The included wiring is very short, so you might need to purchase additional wires.
There were common problems with the installation guides.
The keypad access control and the overall locking mechanism can be improved to prevent accidental entries and key fob duplication – the lock's holding force of 350 lbs. is indeed quite low.
For security, fail-safe is the way to go
Professional installation is always important when it comes to securing your residence or workplace. It ensures that all things considered, your security locks will work as intended. They should remain locked as long as there is a power supply. When the power turns off, those who are inside should be able to come out, so the electromagnet should automatically disconnect. Correct wiring is essential to make this all work behind the scenes. Knowing how it is done is equally important, so make sure you purchase a wireless electromagnetic lock that comes with accessible guides as well as active technical supports.