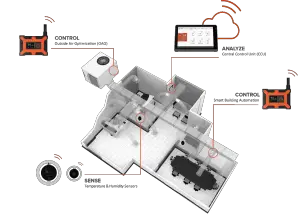 Temperature imbalances in homes and commercial spaces are quite common, especially with traditional HVAC systems. This is because old systems are not designed with smart technologies that make up the Internet of Things (IoT). A traditional HVAC infrastructure sets all the rooms in your home to a single predefined temperature. It is equivalent to turning on all the lights using a single switch, and this is clearly impractical, inefficient, and heavy on your bills. The key to managing room-by-room temperature is to create multiple zones that can be controlled independently. A wireless HVAC zone control system is one such solution. It eliminates the hot and cold spots around your space and allows you to adjust the temperature in each room individually.
A balanced indoor climate saves energy with more precisely controlled temperatures that heat up or cool a zone as needed. You can customize your immediate climate and make the best of this zoning potential. Control systems for HVAC zones offer centralized management for all the units connected to the network. These wireless systems include various hardware – like dampers to control the airflow in each zone – as well as intuitive apps for remote access. A zoned system is ideally a single HVAC system that supervises all your zones. It should enable isolated temperature management for both residential and commercial contexts, as discussed in this article.
A zoned indoor environment
The old problem
HVAC automation focuses on regulating your indoor air quality based on sensors and room controls. Wireless HVAC zone control allows you to say goodbye to the one-for-all traditional system that keeps all your rooms at the same stubborn temperature. The problem with these old networks is that they heat and cool every room in your home or office consistently – regardless of comfort levels and occupancy. This wastes a lot of electricity and easily makes room for your energy footprint to grow.
The smart era
Artificial intelligence has coaxed old devices to come out of their shells and grow into smart thermostats, controllers, sensors, and even vents. With a system that can be managed remotely, you have more freedom to customize your indoor climate. A wireless zoned system sets each room to the desired temperature and stops the airflow to unoccupied areas. The resulting drop in energy consumption is quite rewarding, saving you around 40% of energy.
The real-time efficiency
Wireless controls, thermostats, and HVAC units link up to communicate in real-time. The smart sensors keep checking the temperature for continuous regulation. This allows the thermostat to adjust as you like without any human intervention. It works by opening/closing the air vents and dampers to introduce the required heated or conditioned air into each zone. There are different ways to create zones in a building. You can install smart multizone thermostats and sensors in each room that needs independent climates. The smart devices can then turn their occupied range into a "zone" on your HVAC radar. You can also employ geofencing features to manage zones based on the location of your smartphone. Such solutions deliver a real-time benefit when you get to control the whole system using your app – instead of physically adjusting the unit in each zone.
The expert advice
Having an expert install your wireless HVAC zone control system is a good idea. Such an integrated and diverse system requires professional handling for long-term returns – and you definitely need a strong advice on compatibility aspects! A well-executed zoned network mostly uses two-stage HVAC systems. A two-stage operation works at full capacity during high demands, and it automatically runs at a lower level for low demands. For example, a two-stage air conditioner will cool up your room more during the summer heat and comparatively less in milder seasons. These two-stage HVAC units typically operate at 65% on low capacity and contribute to effective zone management. With a professional team on board, you can rely on your crew's expertise to optimize the zoning potential based on an already efficient two-stage HVAC.
The problem with single-stage systems is that they either work fully at 100% or turn off – which is why they cannot be zoned. You cannot expect to reduce energy from a system that only runs at its maximum capacity. Furthermore, if you close the vents in some of the rooms, the full blast will naturally be diverted to the open vents, creating too hot or too cold rooms. This can damage the HVAC grid and cost you mechanical repairs.
Who should use a wireless zoned system?
Homeowners and building owners
As discussed above, zoning works best for two-stage HVAC layouts. You can consider wireless zoning if you have unoccupied areas that stay vacant most of the time. This applies to both residential and commercial spaces. Homeowners, school principals, hotel managers, office managers, etc. can all benefit from turning off the airflow to empty rooms in their buildings, especially if they remain unoccupied for most of the day. As a building owner, planning a zoned commercial space to be leased adds more scope for tenants to fine-tune their temperature preferences. With more businesses downsizing during the pandemic, there is a high demand for adjustable HVAC systems to cope with more and more empty rooms. On the bright side, it is time to turn the winds towards your home office instead!
Airbnb hosts
Wireless zoning offers targeted room controls when temperature imbalance is a recurring issue. This causes some areas of your home to be too warm or too cold depending on where the thermostat is located. Installing a wireless HVAC zone control helps you divide the hot and cold spot areas into manageable zones.
It works like a charm for Airbnb homeowners who want to ensure a welcoming climate for their guests – without compromising their own comfort. Having a single HVAC system installed with the required zoning equipment is a smart choice when you are building a new home. It costs far less than using multiple HVAC systems and creates a versatile solution for all the occupants. The fact that every component of this zoned anatomy is accessible through your smartphone makes the system even more feasible.
Wireless HVAC zone control systems
There are several IoT-based solutions for HVAC zone controls, and most of them include the hardware elements as well as the app. The basic zone hierarchy is made of smart devices that form the brain of this system, including a smart thermostat, a group of sensors, and a smart hub. There are also smart motorized vents and dampers that respond to the smart brain. Finally, there is a specialized app that forms your user interface for communicating with your HVAC zones. We found out which way the wind is blowing in the HVAC world and picked two systems that caught our interest. The following wireless control systems create HVAC zones in a residential and a commercial context, respectively.
ECOVENT
For ideal home climates
Ecovent offers a digital climate control using the Ecovent app and smart devices. It helps you set the desired temperature for every room, with at least 30% of energy savings. With a customizable home atmosphere, you can isolate the temperature for all the rooms conveniently. The app-based control system allows your family members to adjust their own settings and independently manage temperatures without affecting other vents. You also do not need to heat or cool an empty room in the house anymore.
Plug-and-play convenience
Ecovent is a plug-and-play wireless system. It is based on a centralized sensor network that essentially uses an X-ray of energy flows around your home. The system combines science and thermodynamics to regulate the climate in each HVAC zone. This adds the physical controls for the HVAC units, dampers, and vents using your app's settings.
The app also displays the safety diagnostics of your HVAC grid on the dashboard, so you can keep an eye on the internal workings. Once you plug in the Ecovent system, it adapts to your patterns and preferences. The intelligent vents continue to regulate the desired temperature, balancing the climate throughout your home.
An integrated system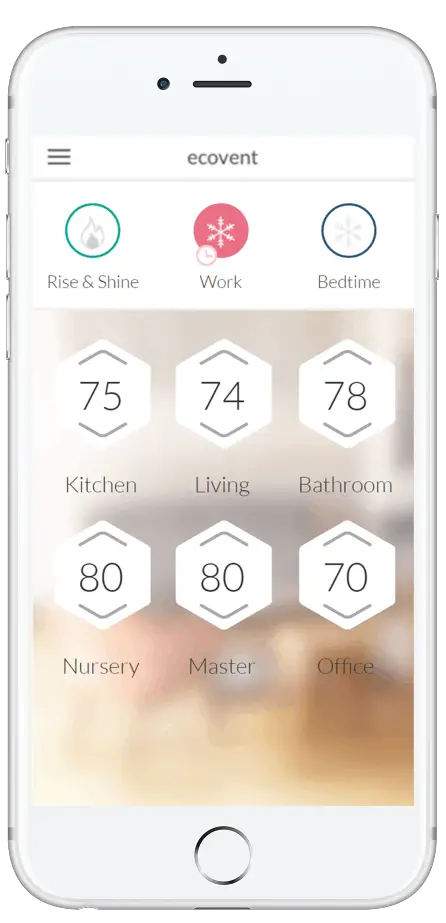 Managing the airflow individually in every room requires more than just motorized vents. The complete Ecovent HVAC zone control includes an integrated system that optimizes your indoor climate – both in terms of comfort and quality. The Smart Hub connects to thermostats and recycles the desired climate in each room. It uses a SafeSense mechanism to ensure the health and functionality of your HVAC zones. Ecovent sensors monitor the current temperature, humidity, and pressure to be controlled, which decides whether the vents remain open or closed.
You can install floor, ceiling, and even wall vents from the brand. They operate wirelessly using batteries and work more quietly than traditional vents. You can adjust the temperature using the app on your smartphone or tablet. Ecovent app allows you to create schedules for automated convenience and even mark the empty rooms. You do not need to specifically go to a cooled room on a hot summer day; the conditioned air follows you instead! This integrated system of interacting components automatically confirms the safety of your vents and equipment by making sure that nothing gets overheated. The result is that you do not have to operate the vents yourself when Ecovent senses the ducts' pressure regularly.
Whole-home coverage
Since Ecovent is such an integrated system, it requires all your vents to be Ecovents only. This allows the wireless system to control the HVAC zones based on the information gathered from all the vents. It optimizes your indoor airflow with a more customizable temperature gradient.
When all the HVAC outlets can be monitored without compatibility issues, the system can divert the air traffic productively. Ecovent devices installed throughout your home enable a bigger coverage in terms of adjustable airflow. This comes in handy during lockdown house arrests, with homeschooling and home offices driving everyone to different rooms.
75F
A commercial degree
75F is an IoT building management system that improves the indoor air quality for commercial buildings. It allows businesses to minimize operational costs and control HVAC zones efficiently. The system takes a proactive approach in managing a commercial climate by preventing hot and cold spots. You can choose from multi-size, equipment-specific, and zone-specific HVAC controls. They create employee-friendly climates throughout the building and support easier management as an owner. A key benefit of installing commercial HVAC zone systems is that you can save up on unnecessary usage, especially if you have multiple sites to run and manage.
Out-of-the-box integration
The 75F control system works on integration levels. It is a smart building solution that uses sensors, equipment controllers, and apps to automate zone customization. You can set it up right out of the box without any networking and have a predictive system up and running in no time. The intelligent algorithms help you save up to 50% of energy costs. They deliver real-time statistics to give you valuable insights into energy consumption around your building. Thanks to a fully integrated network, the HVAC system tracks the outside weather as well as room occupancy to optimize the commercial climate. It is self-learning, adaptive, and responsive to your commercial space and employee patterns.
75F Smart Stat is a versatile thermostat that measures temperature, humidity, light, carbon dioxide, sound, and room occupancy! The Smart Node is a multi-purpose equipment controller that monitors all kinds of sensors in the system. Both the thermostat and node report back to a Central Control Unit (CCU). This CCU acts as a gateway for various equipment control and consolidated management – running the integration life cycle of the whole system.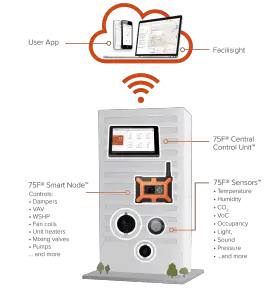 COVID-ready
The 75F system installation is simple and non-disruptive. Its wireless units can be connected easily without costing you expensive downtimes. Moreover, the system has a unique 75F Epidemic Mode to stay in line with CDC recommendations and keep the indoor air pathogen-free. It uses dilution ventilation to maintain and improve the air quality.
Building intelligence system
All of the HVAC functions and adjustments can be made using the 75F Facilisight app, which is a whole suite of apps for remote management.
It enables multi-site building automation and helps you manage each zone on the same system. The app is based on real-time sensor and weather readings for predictive and proactive climate control. You can supervise the HVAC and energy grids remotely for all your sites, and this gives you a reliable way to optimize operations. The HVAC dashboard on your app can be filtered for specific zones or equipment to receive instant summaries for each commercial building. This generates a comprehensive portfolio that brings all the required statistics on the same page. Also, a user-centric and tailored indoor environment easily boosts the occupant experience for your businesses.
75F Occupant App is another software solution. It helps your employees and tenants use zone-specific controls for their HVAC units, working comfortably at their favorite temperatures. They can also create vacation schedules from their smartphones. Moreover, with geofencing features extending the HVAC scope, your occupants can fine-tune their settings based on their locations. The system will track smartphones in the vicinity and pre-condition the corresponding zones to heat up or cool accordingly.
Insightful analysis
The dashboard also creates live heat maps for your building's HVAC performances, including equipment status and internal environment. Smart sensors detect room occupancy and zone temperatures to ensure optimum climates. Performance alerts can be created to predict equipment failures by warning you about faulty services. In this way, the wireless, cloud-based system keeps track of your building's energy loads. It relies on the incoming data from sensors to not just manage a zone's temperature but also reduce your energy footprint. This helps combat thermal imbalances throughout the building.
The smart Airbender
Zoned HVAC systems accommodate the temperature preferences for everyone in a home or office. They make a good solution for addressing issues like the extremely warm top floor or a seldom-used room in the house. Having a wireless HVAC zone control system allows you to heat or cool special areas such as your home gym, home office, and living rooms. It also adds isolated convenience if you host Airbnb guests, so you will not have to worry about temperature differences affecting your family either. There can be multiple temperature-controlled HVAC zones in a building. An exciting benefit of a zoned approach is the direct impact it has on your energy usage, letting it fall to an all-time low. The aerokinetic power of a smart HVAC system really adds extra years to your heating/cooling units and ductwork. This is because instead of drawing a 100% capacity of the HVAC component in each room, you only use the temperature that works for you.
Not only does this shorten your utility bills, but it also extends the lifespan of individual elements. The reduced pressure at each duct along with timed usage gives the system more room to breathe. Designated zones particularly optimize the climates in areas like open kitchens, basements, rooms with large windows, and high-ceiling areas. As a homeowner or building owner, these benefits bring you long-term returns and reduce maintenance needs down the road.