Smart technology is something which is invading our day to day life in all spheres. Be it in office or in home, we are in the quest for future smart technology enabled devices which can ease our lives. With the market already invaded with Bluetooth and Wi-Fi technology enabled smart devices, Z wave devices are a new addition.
Z Wave is a relatively new wireless technology focusing on the connectivity within the smart home. Z waves communicate between devices using low energy radio waves. They can find application in anything and everything in your smart home. Locks, doorbells, light bulbs, and many more can incorporate Z waves for their operation. Z waves are a much lower power alternative when compared to Wi-Fi. However, their range is much bigger compared to Bluetooth.
Why Z Wave Devices?
Simple Installation
Being wireless system, there is no cabling involved. In most cases, you just need to switch on the device, add it to the Z wave network and then you can control the device via mobile or laptop.
Improved Signal Range
One of the major disadvantages associated with wireless technologies usually suffer is its short range and the related interference issues. However, with Z wave technology; there is less interference with the other electronic devices in your smart home. Also, the range associated with Z wave technologies is around 50m indoor and 100m in open. Being a mesh technology, the range increases with the increase in the number of connected Z devices.
Affordability
They are more affordable when compared to other traditional smart home technologies like Zigbee.
Reliable And Secure Connection
Z wave devices communicate with one another wirelessly and require that every communication is acknowledged to proceed further. This adds reliability to the system. The data transfer in the Z wave based system involves encryption and hence adds security as well.
Interoperability
Z-Wave devices are fully interoperable so you are not bound to depend on a single manufacturer when implementing various home automation solutions. So you can always look for the best options when it comes to adding new devices in the network.
Energy efficiency
Z wave devices are energy efficient with low electromagnetic emissions making them a better choice to have in your home automation system.
Z Wave Plus
Z Wave Plus products make use of the advancements in the field of Z wave technology. These include improved range, longer battery life, faster operation, easier installation and better RF coverage with noise immunity and higher bandwidth.
Z Wave Doorbells
There are only a few options available in the market when it comes to Z wave doorbells. However, you can also turn your existing door into Z Wave compatible one with the help of Z Wave doorbell sensor. Now let us look into some of the best options of Z wave compatible doorbells available in the market which can invade your smart homes.
Aeotec Doorbell 6
The Aeotec Doorbell 6 with Z wave makes your front door smarter. When the doorbell is rung, the combination of the 105db speaker and the 1000 Lumen lighting comes into action making the Doorbell 6's chime to notify you inside your home. If you are outside, you can have smart phone and app alerts from the system. And if the doorbell is rung at night, you can even turn on the Z wave connected lighting system indoor or outside so as to feel more safe and secure. Now the best thing is that the Doorbell 6 can turn on anything connected to your smart home system even if it is not Z wave device. Turning on connected cameras and even the lights so as to record clearer videos enhances the security. The indoor chime and the outdoor button of Doorbell 6takes advantage of Z Wave Plus and can be set up in minutes.
There is improved wireless range. The chime can be installed up to 100m from the Z wave gateway and the outdoor button can be installed up to 90m from the chime. The wireless button can run up to 2 years before needing battery change. Also it has the embedded back up battery which can last up to 4 hours. The outdoor button is also waterproofed and can operate between -20°C and 40°C temperatures. Z Wave Plus provides enhanced security with 3 different types of wireless security. Doorbell 6 can also be paired with multiple outdoor buttons.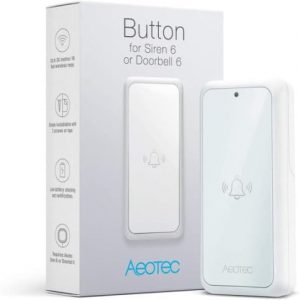 Aeotec Doorbell 6
Everspring Utse03a Z-Wave Doorbell Set
The Everspring UTSE03A Z-Wave Door Bell Set is another option. The set includes a wireless push button and speaker. The LED lights in the pushbutton makes it visible at night and will also flash when someone rings the bell. The speaker requires 3 AA alkaline batteries for its operation, while the push button requires 2 AA alkaline batteries. The LED flashes every 30 seconds in case if there is need for battery replacement. You can associate the doorbell with up to 5 nodes. There are five preloaded chimes to choose from or else you could also customize the one as per need.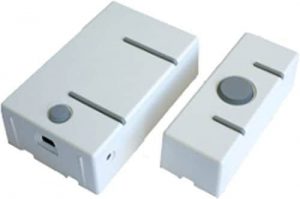 Everspring UTSE03A Z-Wave Doorbell Set
Ecolink Z Wave 700 Chime + Siren
The product comes small in size but big in alerts. The system includes a built in chime and doorbell. It plugs into any outlet and the built in siren alarm is capable of providing security sound effects up to 105db. There are 30 built in sound effects.  Also with the microSD (32GB or smaller) slot, you can have custom sound effects to be loaded. Easy to hear, there is also volume control option. There is 24 hour battery backup. The doorbell offers Z Wave Plus compatibility with SmartThings.
When your home is in away mode, you can automate your Z Wave Chime + Siren so as to get alarm intrusion siren when contact sensor is opened.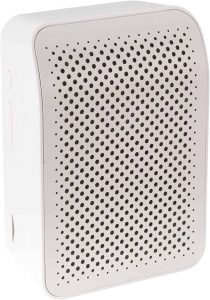 Ecolink Z Wave 700 Chime + Siren
Nexia Z Wave Plus Doorbell Sensor
It can act as an event relaying and trigger based doorbell sensor. Acting as an interface module it alerts you via smart phone when someone is at your door. They have a simple attach and play installation connecting to your current chime. The sensor is battery operated by 2 AA batteries and also works with compatible devices like camera for recording the video footage or the lights which can be turned on when doorbell is sensed.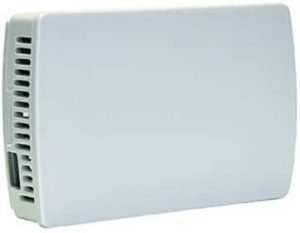 Nexia Z Wave Plus Doorbell Sensor
Fortrezz Mimolite Wireless Z Wave Module
Another sensor option to have is the FortrezZ MIMOlite Wireless Z Wave Module.With the FortrezZ Z-Wave MIMOlite Z Wave module, you can convert any of your devices and appliances into a Z-wave compatible device. It is not just a doorbell sensor. How it works is that when someone presses the doorbell the module will communicate with your Z-wave compatible devices so as to alert you regarding the same.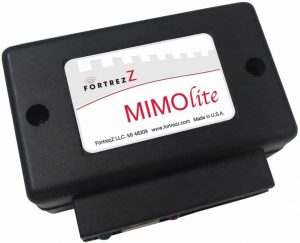 FortrezZ MIMOlite Wireless Z Wave Module