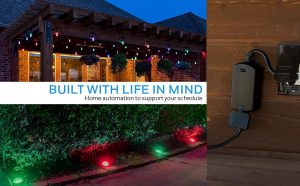 Image source: Amazon Honeywell Home
Landscape lighting can have different types and applications to illuminate your outdoor spaces. There are motion-triggered lights for the driveway, garden lights that hide between the greens, porch lights with different colors, and patio lights to accessorize your outdoor living. These lights can be automated using smart technologies, which is what makes Z-Wave landscape lighting so popular. Using your Z-Wave home automation platform, you can install certain smart products to connect your existing lights and control them on your smartphone. Z-Wave solutions rely on a hub to centralize the smart traffic and ensure compatibility, allowing your bulbs and LEDs to smarten up in no time. It is a great way to automate landscape lights for both decorative and security reasons, as you can configure them to match your comfort.
Motion detection activates your outdoor lights whenever someone turns up on your driveway, so you will be notified on your smartphone immediately. Homeowners prefer combining their landscape lights with their home's security system for this reason. The Z-Wave protocol can work with multiple brands and automation products to help you group your gadgets together. It enables remote management of every lighting unit, letting you operate the path lights, deck lights, and overhead string lights from anywhere. The mix of lighting styles and accents really adds to the overall landscape aesthetics – apart from the improved functionality to make your life easy.
How Z-Wave lights create an impact – applications and features
Landscape versatility
Outdoor lighting can be as versatile or as simple as you want. You can use it to illuminate the walking track or turn your backyard into a happy retreat. Adding the smart "brains" helps your landscape lights think for themselves, so they can activate automatically based on your schedules and events. For example, you can set the porch and garden lights to turn on as soon as your guests arrive. The step lights can also be programmed similarly. The combined effect of these lights coming to life all at once makes your home appear charming and welcoming. Z-wave products are commonly used to light up lawns, gardens, walkways, driveways, and patios. The automation protocol lets you centralize the access to all your lighting units on the same app, allowing them to drive your custom scenes with flawless timing. In this way, Z-Wave landscape lighting helps you orchestrate your favorite lighting sequences to make your property stand out.
Home security
Motion-triggered lights in your landscape offer a simple way to protect your home. Smart floodlights can be used along with your security system to trigger a foolproof alert that keeps intruders at bay. Since floodlights are designed to throw maximum overhead light on the target areas, they are enough to freeze intruders in their tracks. Motion detection can also trigger other smart products like indoor lights, alarm sirens, and sprinklers to catch your attention – and chase the burglar away. Security-enabled landscape lights that are compatible with your smart locks will remember to lock the doors when they detect movement during suspicious hours. Z-Wave solutions are very homeowner-friendly for this reason, as they also notify each family member on their smartphones.
Z-Wave technologies do not just prevent your home from being intruded on; they also secure your devices against interceptions. Each Z-Wave fixture that employs advanced S2 security encryption will protect your smart traffic from being hacked – which keeps your camera feeds safe, for example. Moreover, the units are often compatible with voice assistants like Alexa, so you get to use both your app and voice to control the lights. This opens a whole new world of possibilities to customize voice controls with home security events – like "Alexa, activate intruder mode".
You can also schedule different lighting scenes using your app to make it look like your home is occupied while you are on vacation. We will just let the Home Alone movies take it from here!
Outdoor friendliness
Z-Wave landscape lighting is enabled using smart outlets, plugs, bulbs, switches, and other fixtures. Smart outlets provide an efficient way to automate your lighting system by simply plugging in the units. The installations are straightforward – and are better off handled by professionals to ensure safety and product longevity. Z-Wave lighting gadgets are weatherproofed for safe outdoor use, so your connections can withstand the elements. The plugs and switches keep out rain and snow, thanks to their enclosed setups and outdoor ergonomics.
Device compatibility
In order to combine your outdoor lights with other products like cameras, sprinklers, or alarms, you will need a Z-Wave smart hub to support integrations. The hub is important for keeping your entire Z-Wave ecosystem up and running. It offers diverse compatibilities with Alexa, Google Assistant, SmartThings, Honeywell, Wink, and other brands. This helps your smart devices from different manufacturers interoperate and extend your landscape lighting scope. A Z-Wave hub also reinforces your communication signals by repeating them throughout the network.
Z-Wave landscape lighting options
GE Z-Wave Plus 40-Amp Indoor/Outdoor Metal Box Smart Switch, Direct Wire, 120-277VAC, for Pools, Pumps, Patio Lights, AC Units, Electric Water Heaters, Compatible with a Z-Wave Certified Hub 14285 , Gray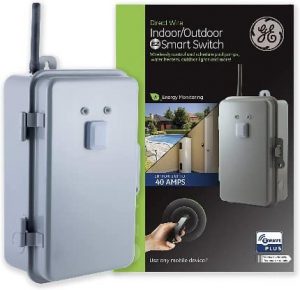 GE Z-Wave Plus smart switch is designed to work with all landscaping accessories as well as equipment like AC units and electric water heaters. It has LED indicator lights for quick status viewing and includes on/off/Z-Wave selectable modes of operation. You can use the switch both manually and remotely to activate your lighting sequences – the smart function requires a Z-Wave certified hub. The switch has a current rating of 40A and an operating voltage of 120V, and having your switch professionally hardwired powers up the wireless component of such a system. It features multiple configurations for universal use in single and dual-load applications. Two 120VAC devices can be connected to the switch, which also works with large-load devices of up to 11,000W.
Product highlights:
It is compatible with various landscape lighting options, including LED lights, CFL, halogen, incandescent, patio lights, pool/spa lights, etc. You can control all these lights with GE smart switches located strategically to support each bulb. They offer flexibility in lighting up your exterior structures and automating water fountains to create the perfect outdoor ambiance.
The Z-Wave switches are weatherproofed in their metal enclosures for safe outdoor mounting and installation. They are also tamper-resistant with lockable support to keep the wiring safe within the water-tight box.
The switches use the S2 Z-Wave security protocol, which is the latest Z-Wave protection for smart devices.
Z-Wave SmartStart allows for easy installation through pin or QR codes.
GE smart switches work with Alexa for voice integrations and also come with an override switch to manually operate your connected lights.
You can monitor the energy levels by tracking the watt and kilowatt-hours, so this helps manage your daily energy consumption.
It is a heavy-duty smart switch that you can use to customize your lighting scenes for large-load landscaping purposes.
You will receive multiple modes of control through your smartphone, tablet, desktop computer, voice assistant, and even a Z-Wave-enabled remote control.
The switch acts as a signal repeater to revive the traveling signals within your Z-Wave network. This prevents delays and keeps your landscape lighting more synchronized.
Product limitations:
The Z-Wave range can be quite short despite the signal boosting capability of these switches. The lack of responsiveness can mean that you end up using the manual toggle switch most of the time – which is not very smart when you have an automated landscape.
The switch requires better compatibility with other automation brands like SmartThings to enable seamless connections.
GE Enbrighten Z-Wave Plus Smart Outdoor Switch, 1-Outlet Plug-In (2nd Gen.), Weather-Resistant, Works with Alexa, Google Assistant, for Landscape & Seasonal Lighting, ZWave Hub Required, 14298,Black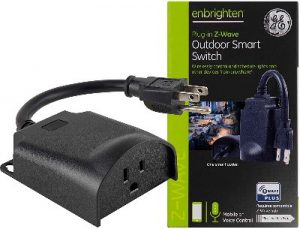 GE Enbrighten Z-Wave Plus smart outlet has a plug-in mount and can be used on both Wi-Fi and Z-Wave protocols. Its weatherproofed housing makes it safe to use for all landscape lighting applications. The outlet is shaped to face downwards so that rain and debris do not get a chance to sneak in. This version is more compact than its predecessors and can be installed in various settings (within 32-104°F temperatures). The overall design focuses on easy mounting and installation for safe outdoor lighting. Compared to hardwiring a smart switch, you can simply plug in this outlet, and you are good to go!
Product highlights:
GE Enbrighten smart outlet is compatible with Alexa, Google Assistant, Nexia, Vera, Ring, Alarm, Vivint, Wink, Honeywell, SmartThings, and several other brands using a Z-Wave certified hub. The extended compatibility means that you have the perfect device for a smart, integrated landscape.
You can control the lights using voice commands, app controls, and Z-Wave-enabled remote controls. The outlet also supports manual operation. The different smart ways of activating your landscape lights help you customize scenes, create schedules, and organize alerts.
The Z-Wave Plus outlet is also compatible with older Z-Wave products, and so the expanded network delivers whole-home automation for your indoor and outdoor lights.
You can connect LEDs, CFLs, incandescent, and halogen bulbs and even power up various seasonal decorations, fountains, and other landscape structures.
Z-Wave Plus technology offers better encrypted security and QR code convenience with S2 and SmartStart to keep your outlet – and its automation traffic – safe. The outlet stays upgraded for seamless functionality and has a larger wireless range and battery life.
Product limitations:
Like the GE smart switch discussed above, this GE smart outlet faces problems with SmartThings compatibility.
At a lower price, most smart units are available with dual sockets – compared to this expensive outlet with just one socket.
There are complaints regarding the design that makes the outlet unsuitable for its proposed ergonomics. The outlet cannot withstand moisture and is not very outdoor-friendly for this reason.
Honeywell 39363-CS2 UltraPro Z-Wave Plus Outdoor Plug-in Switch, Weather-Resistant, 1 Grounded Outlet, 39363, 1 Pack, Black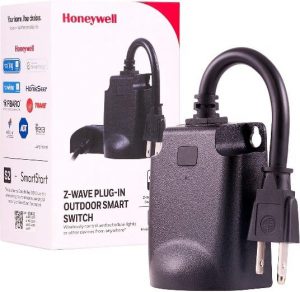 Honeywell Z-Wave Plus smart outlet has an operable current of 15A and a voltage of 120V. It is a plug-in outlet built with impact and weather-resistant features. Apart from smart controls, you can use the outlet's manual button to operate the connected device. There is an optional LED indicator that you can keep on or off. The outlet has a simple design and dual keyhole brackets for easy installation. You can light up your landscape from anywhere using a compatible hub for remote management.
Product highlights:
Honeywell smart outlet works with Alexa and Google Assistant. It is also compatible with Ring, Wink, SmartThings, Vera, Nexia, and other platforms with their respective hubs. All the older Z-Wave generations can tune in anytime, so you have more flexibility to expand your home automation network.
You can accessorize your outdoor spaces by creating holiday lighting schedules to match the season. You can also organize scenes by combining groups of lights – and simply ask Alexa to turn the pergola lights on!
The smart outlet regenerates your Z-Wave signals over an extended range for better reception, which boosts your overall smart home coverage.
It works with all LED, CFL, incandescent, and halogen options, so you can use the outlet to manage your seasonal and landscape lighting.
Product limitations:
The only negative we found was a damaged product delivered by the store. Otherwise, Honeywell smart outlet was received remarkably well by its audience.
Stars only shine in the dark. So does your landscape!
Adding outdoor lights can magically transform the look of your home, and the before-and-after results say it all. Z-Wave landscape lighting units have a dusk-to-dawn feature that keeps your outdoor areas awake at night. A combination of smart lights is a great way to accessorize your nocturnal landscape for both decorative and functional reasons – which comes in handy if you too are a nocturnal reader/writer/artist. Different lighting styles help you showcase your handcrafted landscape aesthetics.
Their perfect timing lets you get creative with family surprises and candid memories. You can put up simple string lights or create more elaborate accent lighting to transform your gazebo into a charming outdoor retreat. In this way, landscape lights can really be as simple as a well-lit walkway or as diverse as a holiday-themed exterior décor. Z-Wave solutions are also very helpful in greeting any unsuspecting intruder with a full blast of white light and a blaring siren! So, between seasonal decorations and year-long security, you can plan ambitious lighting events to turn your landscape into a work of art.