Z-Wave is a home automation protocol that creates a smart ecosystem of interoperable, connected smart devices. It is like the "Pacific Ocean" of the smart world, leading the largest wave of competitive solutions. With greater product diversity, the Z-Wave communication link allows more smart appliances to join the radar. They could be from different brands and still talk to each other on the network, thanks to the compatibility options available from Z-Wave. The popular mesh architecture connects multiple smart products to a central hub. It makes a more dedicated platform to support communications and let your smart home ping to life. A key prerequisite to any home automation system is its wiring and connectivity range. And one of the trending waves in this quest is the use of a Z-Wave switch without neutral wiring.
Smart switches of this kind offer versatility and functionality that would otherwise be absent in a house that lacks neutral wires. There are various no-neutral alternatives that provide smart home integration support. Most of them employ a smart hub in their setup. A smart switch lets you operate other smart products and typically needs a neutral wire to complete the connection. This is why the hunt for no-neutral Z-Wave switches can be a little extensive. Before falling down the digital rabbit hole, here are some guides and directions to help you along the way. We also pulled out 3 no-neutral Z-Wave switches from the Pacific depths before they could disappear as well! This article focuses on some ideal features to look for and get the best out of your no-neutral setting.
Smart switches and neutral wires
Why use a smart switch?
Once you have your Z-Wave home automation network up and running, you will need the power source for your smart devices. A smart switch is an actual control for smart gadgets around your home. It is both the local and remote control to operate your products – and is what allows apps to connect and manage your devices. Smart switches need to stay on all the time so that you can access the connected lights, fans, etc. using the app. By automating the switches, you can also create schedules for the day. Simply put, your smart switch lets you turn your smart products on or off. You can use your app and voice controls to operate smart light strips, LED bulbs, and other fixtures. An exciting incentive comes from the way you can manage scenes using a smart switch that sets the perfect ambiance for every event.
How do the switches work?
Installing a smart switch involves wiring it to your power outlet. Once connected, the switches can tune in to your smart home automation network. When you plan on using a smart switch, you want to give your connected products some remote-controllable convenience. This can be done in two ways. You can either use a smart bulb, for example, or wire up a smart switch. Z-Wave is a popular link that adds the wireless component to this wired setup. The switches can also be connected through Wi-Fi. There are different ways that can be used to wire a smart switch, depending on your home's wiring infrastructure and age. A proper installation helps you use your app to control the connected smart lights, adjust their brightness, set timers, and add new devices to the switch.
What is the neutral wire?
All installations take us back to electrical circuits. There are three wires that draw up the complete anatomy, and they include the live, ground, and neutral wires. The neutral wire is responsible to redirect the current to its source once the smart switch turns off. It is this wire that completes a circuit, in general, and a white-colored wire is usually the neutral wire in most homes. You can call in a professional to help you evaluate the wiring maze before planning on your smart devices.
How can you check for neutral?
Time for some trip down the electrical lane! You would need an electrician to look into your home's wiring arrangement and find out if a neutral wire exists. This is because not all homes have a neutral wire running behind the walls. The age of your home is another factor. Homes that were built before the 1980s tend to lack a neutral wire in their electrical framework. Neutral wiring became official for buildings after the 1980s and proved to be a valuable addition for smart solutions down the road.
Why is neutral important?
Older homes might not have a neutral wire behind light switches. This often becomes a problem during smart home upgrades because smart switches have been designed to require neutral support. They can operate only using a neutral wire in the setup, as the wire powers the smart electronics for continuous use. The main purpose of a neutral wire in this arrangement is to deliver a balanced AC load in the circuit. This combats potential spikes in voltages and essentially recycles the current to keep your devices active.
How to tackle no-neutral circuits?
If you incur problems due to no neutral wires in your home, you can still upgrade to smart home automation. Z-Wave switches without neutral wiring make a smart alternative. Most manufacturers like GE Lighting have designed solutions to bypass the neutral setting altogether. You can install a relevant smart switch, connect compatible devices seamlessly, and use your app. In-wall lighting devices can be installed without neutral wires, especially on a Z-Wave network. The top benefit of using no-neutral smart switches is that they avoid the need to rewire your framework. They also work with most smart LEDs.
Why choose dimmable options?
You can install dimmer switches as an easy extension to the no-neutral configuration. With a no-neutral setting, the switches depend on limited power that is just adequate to fuel their electronics. This makes dimmable solutions a more longstanding substitute. Their dimming feature summons enough power to keep your smart switch in constant communication with the smart hub – giving you remote access via apps at any time.
Top features of no-neutral Z-Wave switches
Hub-based control
If you already have a Z-Wave smart home background, then it becomes easy to add upon the existing grid. This is particularly helpful in cases where your electrical switch boxes lack neutral connections. With a Z-Wave hub, you can initiate a hub-based system for your smart switches. It allows you to harness the true potential of Z-Wave networks – without ever needing the neutral wire. The hub makes the necessary translations, keeps every device on the same page, and enables voice control.
Customization
No-neutral smart switches offer you virtually all the possibilities on the smart horizon – albeit on a dimmable scale. The physics works behind the scenes, but on a user interface level, you get to exploit most features found in regular smart switches. You can still adjust the dimmable range between 0-100% to set your desired brightness levels. The app allows you to add favorite actions associated with various settings. You can also customize the indicator lights to suit your preferences.
Integrations
Your Z-Wave hub is what decides the level of smart integration welcomed by your home. Depending on your chosen hub, you can integrate voice assistance to communicate with your smart switches. It determines the Alexa-compatible switches and products for seamless integrations. Having a flexible platform that can adapt to changes is a great way to future-proof your smart home. Compatibility in smart switches also affects your scope for multi-platform integrations – leaving an open window for your bucket-list accessories. With a system that adapts flawlessly to your future requests, you benefit from the added versatility down the road.
Whole-home coverage
Most smart hub-and-switch duos offer whole-home coverage for automating your indoor and outdoor lights. You can organize and manage multiple scenes that can be adjusted independently.
The Z-Wave no-neutral dimmers often recycle the signal throughout your home, allowing you to control the smart fixtures remotely.
Best Z-Wave switches without neutral
GE Enbrighten Z-Wave Plus 1000-Watt Smart Dimmer, No Neutral Wire Required, Halogen/Incandescent Bulbs Only, Works with Alexa/Google Assistant, ZWave Hub Required, White & Light Almond, 14299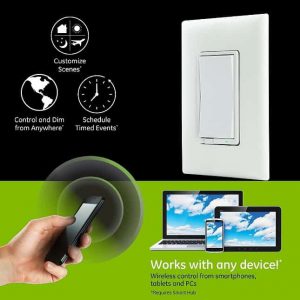 GE Enbrighten Z-Wave Plus dimmer switch works with a Z-Wave certified hub. The compatible Z-Wave gateway delivers a full light control around your smart home. This dimmer switch is 3-way-ready, which makes it integrate with multiple switch setups via add-on switches. It also operates independently based on your applications. You can install the smart switch easily for in-wall, hardwired installations connecting only incandescent and halogen bulbs. It has a minimum load requirement of 40 watts and a supported voltage of 120 VAC. White and light almond paddles are included without a wall plate in the package.
Best features:
No neutral wiring is needed to set up the Z-Wave dimmer switch, making it suitable for older homes. It also works well with modern homes that might not be equipped for automation. The dimmer can simply be incorporated into your home's existing wiring.
Full-range dimness enables flexible intensities for incandescent and halogen bulbs. You can set brightness levels from 0-100%. This cuts down energy costs and prolongs your bulbs' lifespan.
The switch can be controlled through smartphones and Z-Wave-enabled remotes. It is Alexa-enabled and Google Assistant-compatible.
The switch pairs with a variety of Z-Wave certified hubs, including SmartThings, Ring Alarm, Wink, Vivint, Nexia, Honeywell, and many more. You have more options to simply integrate your existing automation platform with the switch.
Z-WAVE Plus supports full-home coverage. You have greater freedom to expand your automation network, as the dimmer can control both indoor and outdoor light fixtures. It also regenerates the Z-Wave signal at strategic points for extended connection ranges.
Major drawbacks:
The Z-Wave switch does not work with LED and CFL lights.
Short product lifetime is a potential concern, especially with the dimmer units failing to work after a while.
The setup cannot handle power surges, resulting in flickering light bulbs.
The ambient lighting may have a noticeably lower brightness compared to other no-neutral dimmable products.
According to the reviews, the Z-Wave switch is not compatible with Alexa Echo Plus.
FIBARO Dimmer 2 Z-Wave Plus Light Controller, Smart Rheostat, FGD-212, doesn't work with HomeKit
FIBARO Dimmer 2 Z-Wave Plus switch is a universal dimming module that can identify the light sources for auto-calibration. You can install it using 2 or 3 wire systems. The dimmable feature lessens the load on your connected bulbs, thereby increasing their lifespan as well as your energy savings! The Z-Wave Plus certified system accommodates a better range in your home automation network.
Best features:
The dimmer switch is compatible with older home designs. It does not need a neutral wire and makes one of the only available solutions for no-neutral settings.
It is equipped with various security mechanisms to prevent overheating, overloading, and voltage drops. This keeps the internal frameworks safe and ensures the durability of your connected products.
You can create custom scenes for your preferred ambiance at different times. The switch allows you to adjust the light intensity – pick a softer tone in the living room, or let the porch lights stay on if you are a nocturnal reader!
FIBARO Dimmer 2 measures the energy consumption in your smart home. You can access the energy statistics on your apps and become more energy-conscious while using your smart products. This also cuts down on your bills.
Remote controls are enabled through smartwatches as well.
The voice-compatible switch allows your favorite voice assistant to reach your smart products faster than you can.
It is also compatible with various Z-Wave hubs like FIBARO Home Center Lite, FIBARO Home Center 2, SmartThings, Nexia, etc.
The switch is the smallest version in the FIBARO line of smart switches.
Major drawbacks:
There can be issues with blinking lights unless you figure out a way to resolve the electrical settings. The limited options for no-neutral switches often create issues like blinking and flickering lights.
Faulty connections in the dimmer switch can have hazardous consequences, as reported by a customer.
It only works with 110 Volts.
Eaton RF9542AW ASPIRE RF Non-RF Accessory Dimmer with LEDs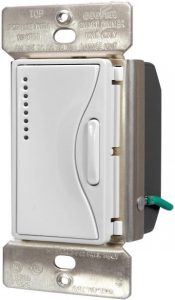 Eaton dimmer switch is compatible with Aspire Z-Wave smart master dimmers. It enables 3-way and multi-location control for your smart home. You can install it for local as well as remote controls to operate the light fixtures and adjust their brightness. This accessory dimmer is designed to be used with a Z-Wave smart master dimmer. A push pad and LED display make up the front panel.
Best features:
You do not need a neutral wire to install this Z-Wave switch, which makes it easy to streamline the installation using the existing wires.
If you want to retain the preset conditions, you can simply press and hold the push pad for 2 seconds to achieve maximum brightness.
Major drawbacks:
The dimmer cannot operate as a standalone switch. You do need to incorporate it into a Z-Wave smart master dimmer.
There were some compatibility issues with the stated master dimmers from the manufacturer, adding to the already difficult hunt for no-neutral switches.
The compatible smart master dimmers may pose problems with dimmable LEDs.
A needle in a haystack
That is what the search for no-neutral switches feels like! Since smart homes that are designed today always follow the basic automation protocols, there is usually no struggle regarding neutral wires. They are already incorporated. Also, the smart products and networks widely used in the US are based on neutral settings. Most issues arise when homeowners living in pre-1980s homes choose to upgrade to smart automation. The lack of neutral wires creates a problem, as it diminishes your scope for smart products that can fit in.
Fortunately, the idea of a Z-Wave switch without neutral wiring has allowed brands to turn on their thinking bulbs. The dimmer switches save you the cost of rewiring an existing electrical framework. The only added expenses would go in buying a compatible Z-Wave hub – if you do not already have one. The key takeaway here is that installing a no-neutral switch has offered a valuable alternative, otherwise, you would need to plan a whole wiring makeover. The smart switch completes your automation system and allows various smart accessories to tune in.
This also gives you the option to future-proof your Z-Wave smart home. The Internet of Things (IoT) is always updating – and creating its own waves. This is why it is always helpful to plan ahead and implement technologies that can follow you down the road. If you are planning to build a new smart home, you are at the ideal standpoint for brainstorming future-proofing ideas. Even if you live in an older home, you can enlist the help of qualified smart teams to retrofit your space as needed. The happiest returns take the form of personalized voice controls when you can shout, "Alexa, Lumos!" and turn the lights on!